Laboratory
Our labs are equipped with nanostructure synthesis tools, morphological, electronic, and chemical characterization under ultrahigh vacuum (UHV) and atmospheric pressure conditions.

System 1: UHV surface science / nanocluster catalysis system (SPECS GmbH).

These modular system consists of four UHV-chambers: a surface analysis chamber, a scanning tunneling microscopy chamber (variable temperature STM), a sample preparation chamber, and a load lock chamber for quick sample transfer into UHV. The components that are present in the chambers are detailed below. Also available: an overview of the system, a view of the chamber design, and a series of pictures taken during the installation phase.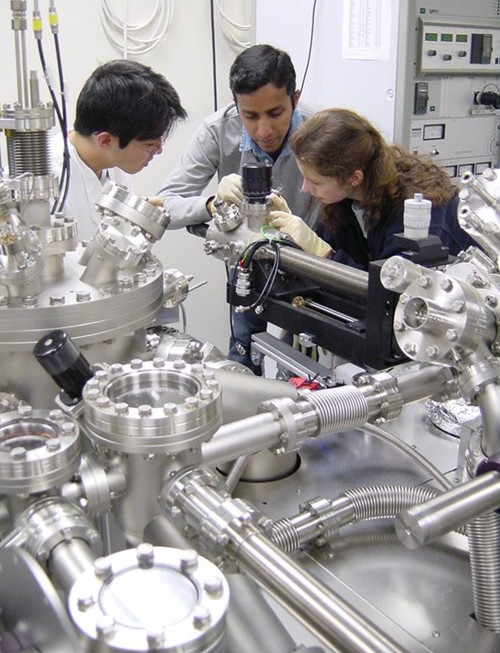 Luis Ono, Abhilash Vincent, and Prof. Roldan
Sample preparation chamber:
4-pocket electron beam evaporator with flux monitor (Oxford Sci.) for in-situ metal growth.
Dual Knudsen-cell evaporator for in-situ growth of bimetallic alloys.
Quartz microbalance that monitors thickness during evaporation.
Hybrid atom/ion Plasma source (Oxford Sci.) for H2, O2, N2 à controlled production of ultrathin metal oxide films and removal of residual organics resulting from ex-situ nanoparticle synthesis.
Argon sputter gun for sample cleaning.
Mass spectrometer for rest gas analysis.


Surface analysis chamber:
Hemispherical electron energy analyzer
Non-monochromatic (Al/Mg anodes) and monochromatic (Al/Ag anodes) X-ray sources for X-ray Photoelectron Spectroscopy (XPS) for characterization of chemical composition and electronic properties of nanomaterials.
Electron source (EQ 22/35, SPECS) for Auger Electron Spectroscopy (AES).
Ultraviolet Source for Ultraviolet Photoelectron Spectroscopy (UPS).
Mass spectrometer (HIDEN) for Temperature-Programmed Desorption (TPD).
Low Energy Electron Diffraction (LEED) for characterazing the crystalline structure of surfaces.
Gas manifold allowing four different gases and one vaporized liquid to be simultaneously injected into the analysis chamber.
Nanosecond YAG laser: 355 nm, 532 nm, 1064 nm (EKSPLA) for in-situ nanoparticle melting and re-shaping.


Scanning Tunneling Microscopy chamber:
Variable Temperature Scanning Tunneling microscope (Aarhus-SPECS)
Parking station with heating capabilities
Argon sputter gun for tip cleaning.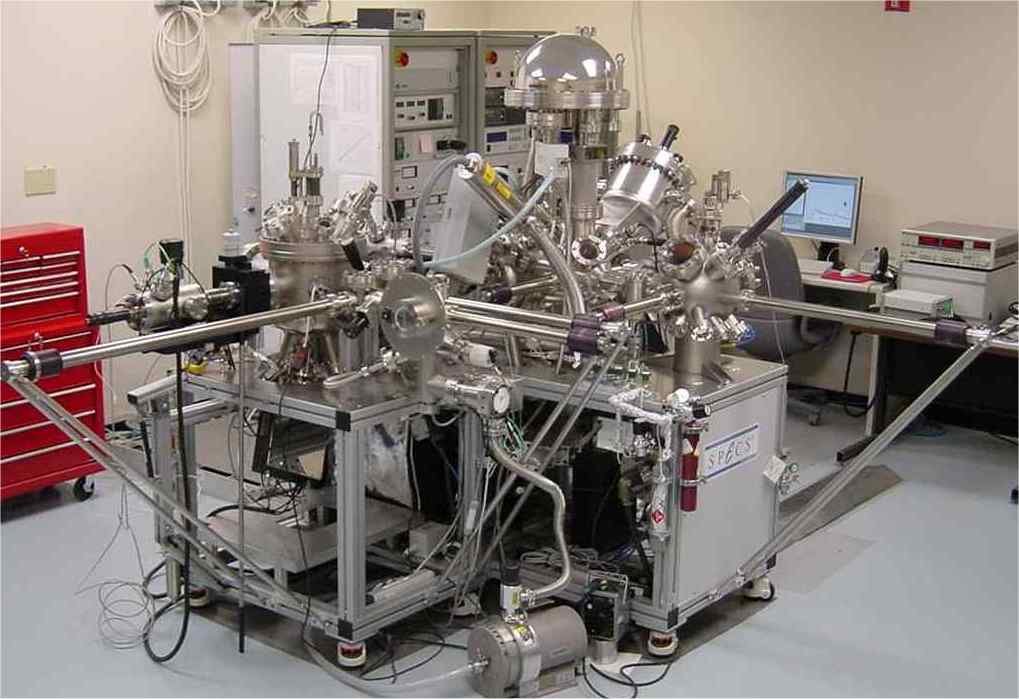 UHV system 1 (SPECS) in Roldan's laboratory.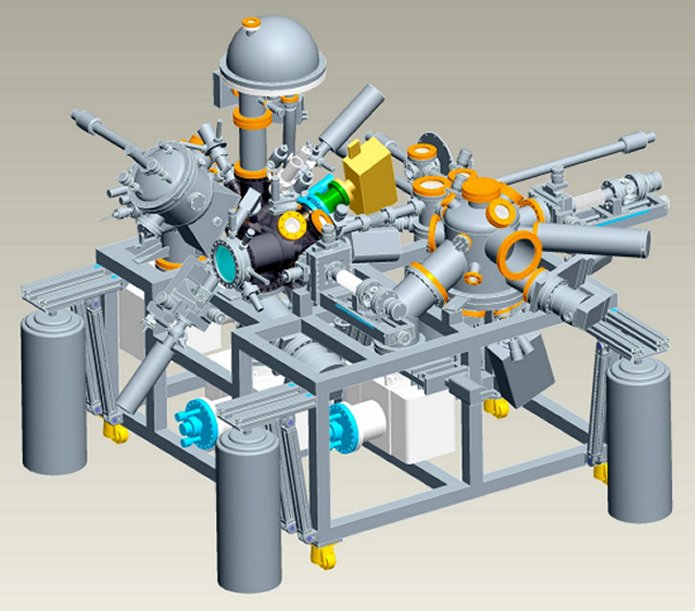 The original system design - a joint effort between Prof. Roldan and SPECS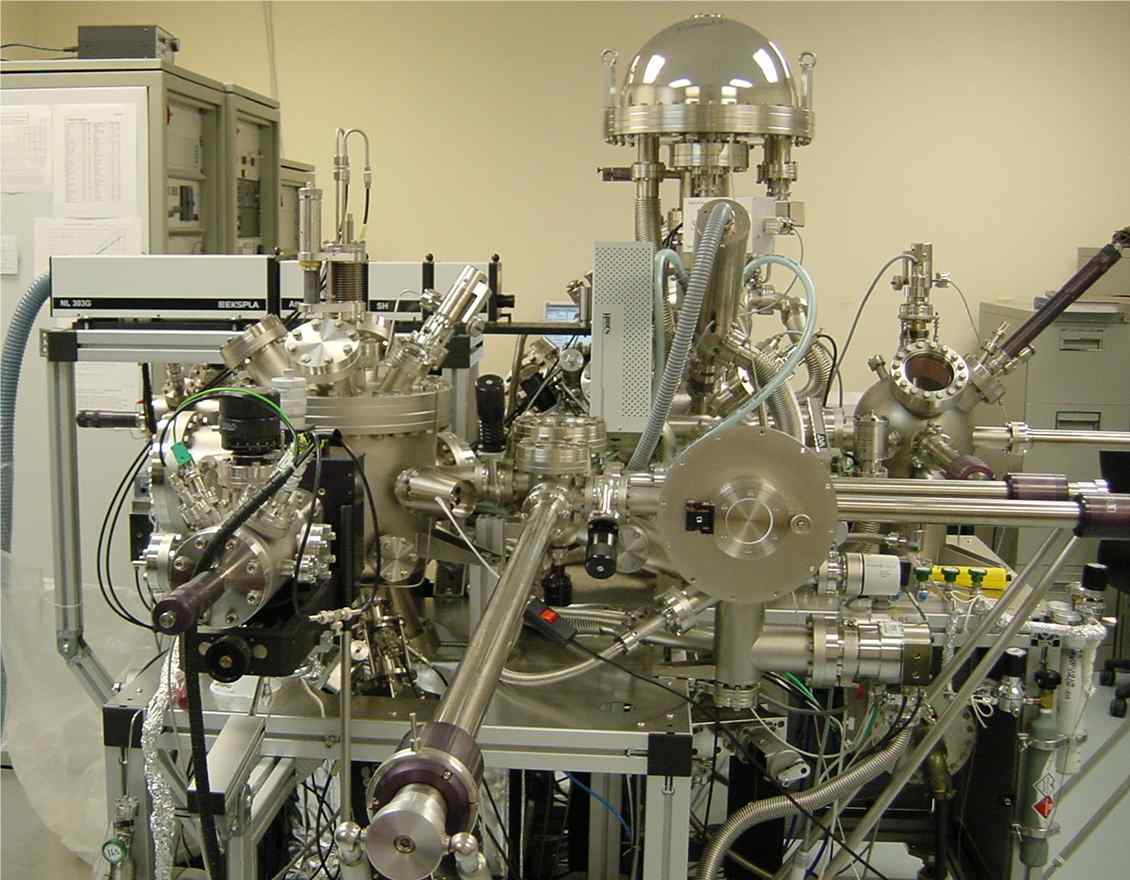 UHV-System 1 featuring in-situ laser-induced nanoparticle re-shaping


System 2: UHV microscopy system

The system includes a room temperature UHV AFM/STM (Omicron) and a load-lock chamber for quick sample transfer. An in-situ magneto-optic Kerr effect setup for the analysis chamber is under construction.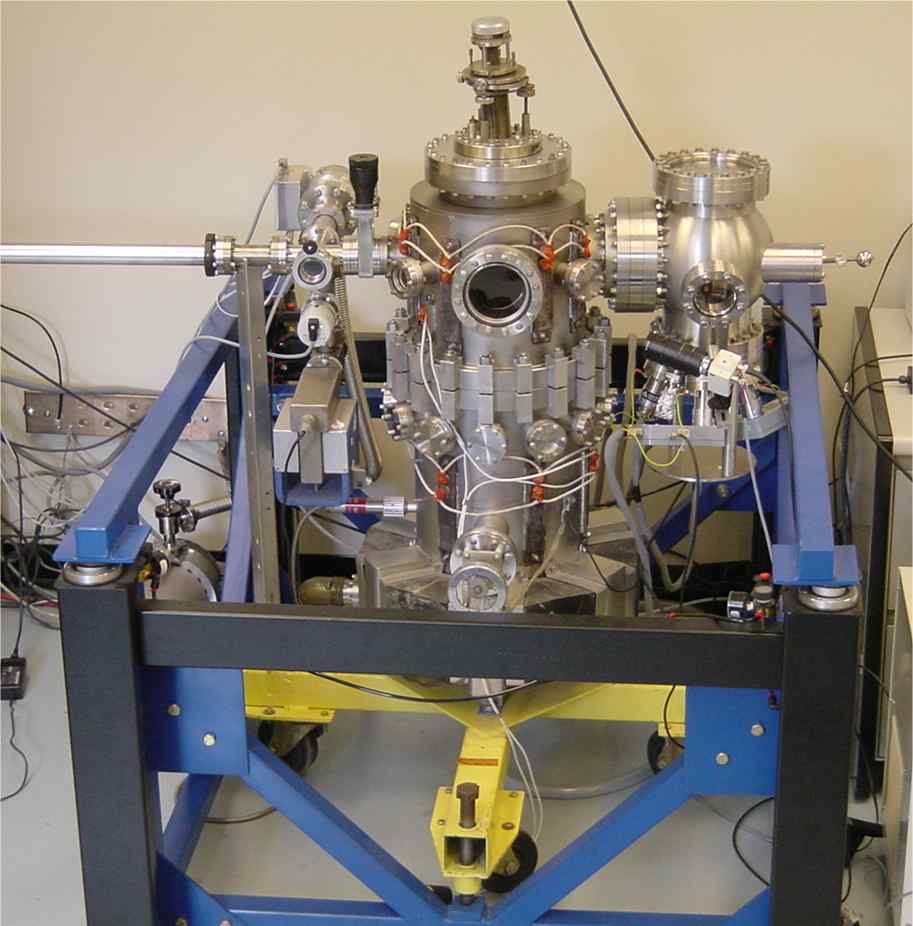 UHV-System 2 installed in Prof. Roldan's lab featuring in-situ AFM/STM


System 3: Microreactor and integrated mass spectrometer system (HIDEN)

A home-built microreactor interfaced with a commercial high pressure mass spectrometer system is available for the rapid screening of catalytic activity. This system allows real-time continuous analysis of multiple gas components.
Microreactor: gas manifold with independent inlets for four gases and a vaporized liquid (mass flow controlled) and a high temperature quartz reactor column for easy-access catalyst placement with minimal changeover time. The sample temperature can be tuned within the range of ambient to 600ºC and an "in-bed" thermocouple is available.

Mass Spectrometer (HPR20, HIDEN): Detection of the gases/vapors used or generated in the microreactor can be performed with high sensitivity and fast response using a compact bench top mass spectrometer system (200 amu mass range dual Faraday/Electron multiplier detector) configured for continuous gas analysis in the pressure range 10 mTorr to 2 bar.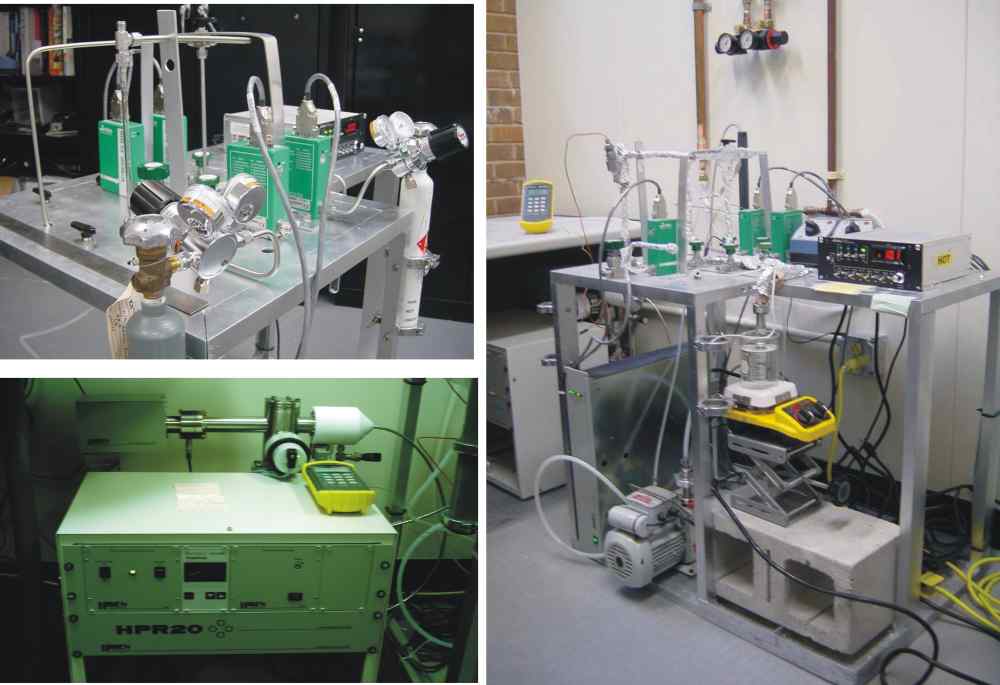 Microreactor with integrated mass spectrometer